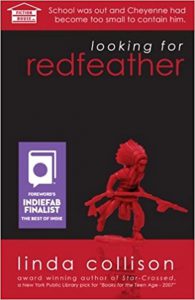 Looking for Redfeather
Life is a highway…
Fifteen-year-old Ramie Redfeather leaves Cheyenne with music in his pocket and his thumb in the air. He's looking to find his father, a man he's never met. Ramie gets a ride with Chas Sweeney, a seventeen-year-old driving a "borrowed" Cadillac Eldorado with Maryland tags, who just happens to be passing through Cheyenne. Chas is running from the wreckage that is his world, sixteen hundred miles away. In Denver Ramie and Chas meet Mae B. LaRoux, an enchanting young singer from Baton Rouge. LaRoux, who struggles with a learning disability, is on a mission to become a professional musician. The three runaways band together and set out on a fast-paced road trip to get to the Austin Music Festival, looking for Redfeather along the way.
Looking for Redfeather, a coming-of-age-on-the-road novel (and tongue-in-cheek homage to Jack Kerouace) is now out as an audiobook, read by actor Aaron Landon! Great listening for your next road trip!
Kit Carson's Knife & Gun Club–
a serialized satire about a single mom nurse trying to save lives and find love in America's New Wild West.
available in electronic and audio formats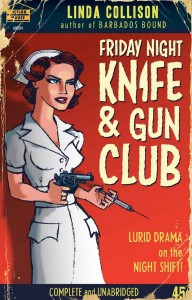 Friday Night Knife & Gun Club
On the night shift a lot of bad shit goes down. This short story takes place in the near-future in the Land of the Free where no gun control exists and everyone packs semi-automatics to deal out justice as they see fit. Tonight Kit Carson, RN, has the worst shift ever. Read 'em and weep.
"Linda Collison's Friday Night Knife and Gun Club is a wry commentary on the casual violence that seems so often to occupy the news. Her depiction of hospital night work is in the tradition of Paddy Chayefsky's absurdist and scalding screenplay for the film The Hospital. Gun-toting nurses and doctors do their best to make it through a wild, snowy night shift in an under-staffed hospital in the American heartland. This is a well-written, funny book filled with sharply observed detail that entertains even as it touches deeper issues of disconnection and alienation in modern society. Highly recommended!"
— Tim Queeney, author of The Atlas Fracture
"Well this is a feisty little number; a pistol packing nurse's night duty is dramatically interrupted when an intruder is detected. Great atmosphere and a good deal of technical background make it a spellbinding read, although not for those of a sensitive nature. The cover art, which is worth the purchase price alone, sums up the mood of the story perfectly. Recommended."
–Alaric Bond, author of Turn a Blind Eye.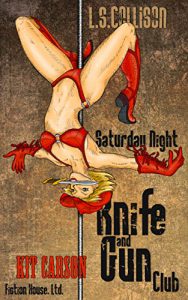 Saturday Night Knife & Gun Club
Nurses Kit Carson and Tonto get temporary gigs across town at WellMart's Emergency Department where they join Doc Halliday in trying to save the life of a well-renowned (and well-endowed) entertainer named Stormy Wether. Saturday Night is the second short episode of Kit Carson's Knife & Gun Club, following Friday Night Knife and Gun Club — lurid drama and trauma in America's new Wild West! Read 'em & weep, cowgirl.
"In the tradition of Paddy Chayefsky's absurdist and scalding screenplay for the film The Hospital"
— Tim Queeney, author of The Atlas Fracture
"Collision creates a reality that stands on the three pillars of the contemporary present, a venerated past, and a dystopian future." 
–Gregory Block
"The reader is transported from the routine of a modern hospital to a parallel world of intrigue, skulduggery and mayhem that appears quite normal to everyone around."
— M. Muir